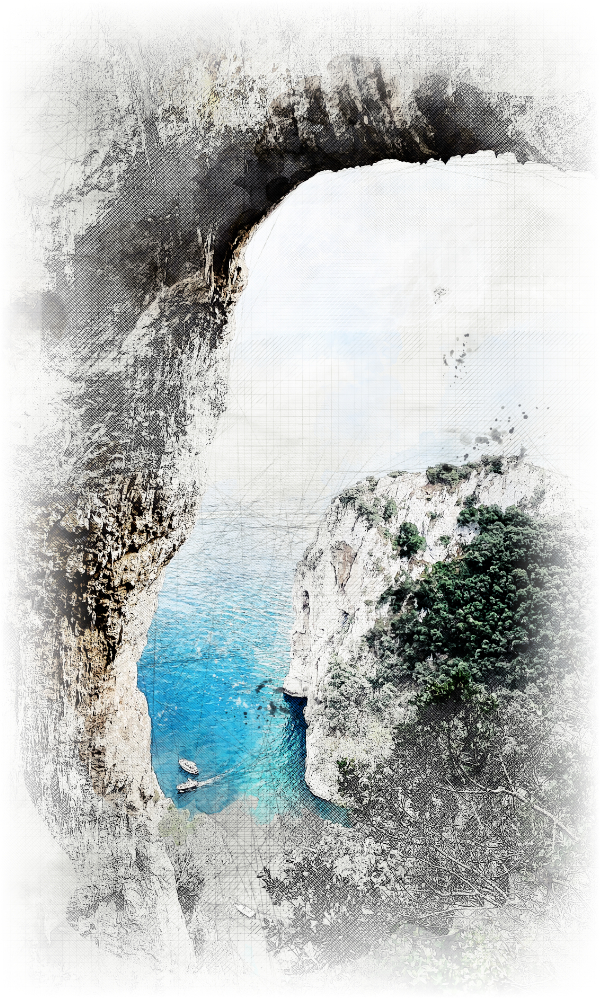 Capri is over-the-top gorgeous, extraordinarily magical, shamelessly romantic – perfect for an unforgettable honeymoon. Awaken next to your love in sumptuous 5-star luxury, in your boutique hotel with an easy yet sophisticated style located directly on the water's edge in a serene part of the island yet within easy reach of the island's famous boutiques and nightlife. Your room is accessed discreetly via an external path and features a private patio ideal for basking in the stunning panoramas.
After breakfast on the sunny sea-view patio you are picked up in a vintage Fiat 1600 convertible. Your driver, who inherited this car from his grandfather and decided to honor his memory by restoring it to its former glory, takes you on a journey around the narrow streets of Capri, telling you stories only a local would know and making sure you don't miss the best views and most memorable sites. On the back seat of the car you find a Polaroid camera which you can use to take snapshots of yourselves against the backdrop of the island's most iconic views.
You then meet a local guide in Anacapri, the quieter of the island's two towns, and by chairlift you climb to the peak of Capri's highest mountain, Mount Solaro. At the top, the view of the Gulf of Naples takes your breath away. From here you begin hiking down the mountain on the Scala Fenicia – a long, steep stone staircase dug out of the side of the mountain by Greek colonists around the fifth century BC. You pass through small picturesque hamlets until reaching an intimate, panoramic spot where a private gourmet picnic is waiting for you.
After lunch you continue your walk down to your final destination – an award-winning spa where you relax with a holistic couple's massage with essential oils. After some time to enjoy the facilities you're picked up by your driver and brought back to your hotel to freshen up and perhaps to sip a pink-hued Sunset Martini on the waterfront terrace deck. You're then taken down to the marina where you meet your captain and his luxurious yacht for a very special experience – an exclusive sunset tour and candlelight dinner, prepared on board by a private chef. A table for two at the foot of Capri's iconic Faraglioni, the towering rock formations jutting out from the Mediterranean sea… life and love have never been sweeter.
Looking for more sensations?