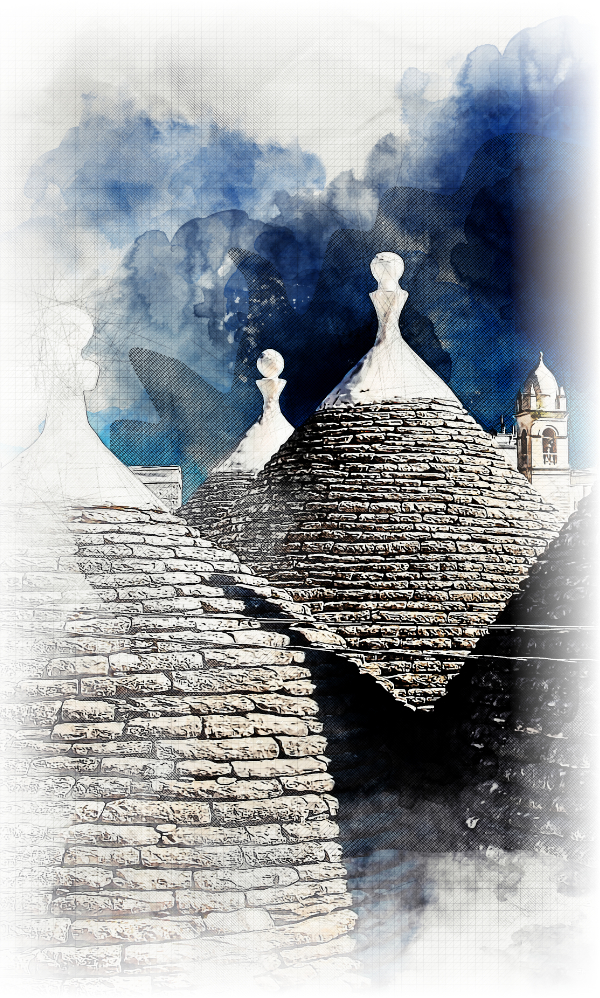 The town of Alberobello in Puglia looks like something out of a fairytale thanks to its trulli, distinctive beehive-shaped buildings, white-tipped as if dusted by snow. In Alberobello there are over 1500 of them – and for a few days, one will be all yours. Carefully restored by master stone masons, your 5-star conical cottage perfectly balances the charm of history and the comfort of modernity.
In the morning your driver takes you to the spectacularly positioned seaside town of Polignano a Mare. You explore this ancient town with a local guide in a rickshaw, passing through narrow alleyways, across picturesque squares and stopping at logge (balconies) for views of the rocky shoreline. Your guide drops you off at one of Italy's most atmospheric restaurants where you enjoy a lunch of gourmet seafood specialties. Carved out of the cliff's limestone centuries ago by the sea, this natural sea cave restaurant is suspended between the town above and the Adriatic Sea 74 feet below. After lunch you walk down to the marina where you meet your captain for a private catamaran tour along the breathtaking coastline. When you've reached that perfect spot for a swim, the anchor is dropped and you experience bathing in the emerald green sea.
After freshening up at your hotel, your driver takes you an hour west to the magical cave town of Matera. Your first glimpse of the famous sassi (cave dwellings) is sure to stay in your memory forever. Haunting and beautiful, the sassi sprawl on top of the rim of a deep ravine like a giant nativity scene.
Although many buildings are crumbling and abandoned, others have been restored and transformed into cozy homes, restaurants and luxury hotels – like yours, where you'll have one of the most memorable, and unusual, hotel experiences of your life. Suspended over Matera's spectacular ravine, the cave rooms are in the midst of the historic sassi. Tonight as you enjoy a private dinner in the hotel's candle-lit 13th-century rupestrian church, you imagine the special experiences that lie ahead – a guided walk though Matera's labyrinthine alleys, a quad excursion in the Murgia National Park to visit some of its over 150 cave churches, and unforgettable moments taking in the singular beauty of this unique and magical city.
Looking for more sensations?