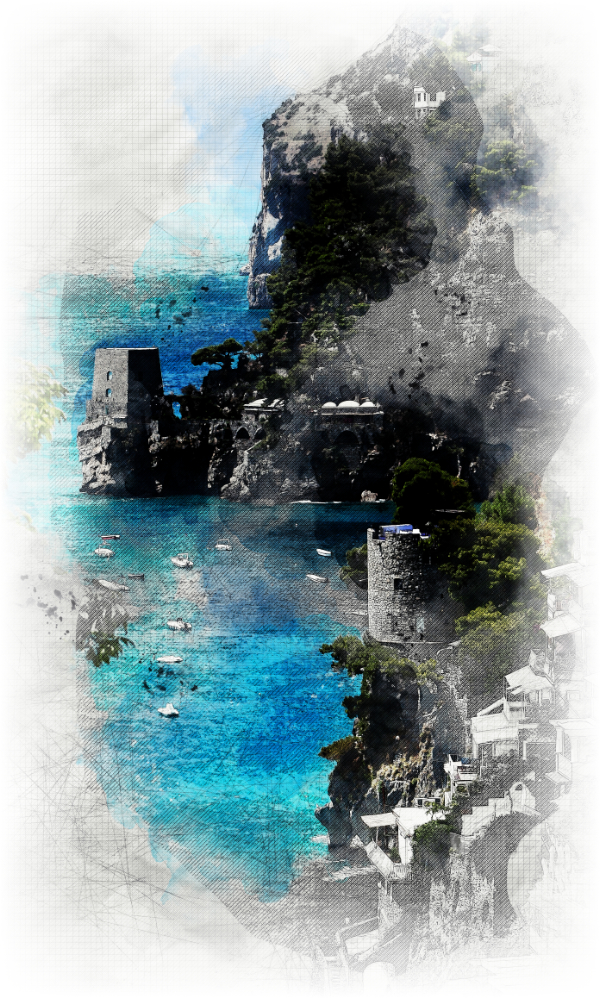 In an exclusive seaside villa on the Amalfi Coast, under a wisteria-shaded pergola jutting out towards the undulating blue-green sea, you enjoy breakfast in front of an exceptional view of spectacular Positano, spilling down the hillside into the sparkling Mediterranean. You return to your suite, which sits at the end of an immense private terrace, and prepare for the day surrounded by the understated luxury that the Amalfi Coast is so good at.
You are picked up by an expert local guide and sommelier and together you venture along the panoramic windy roads of the Amalfi Drive, then inland to an uncontaminated valley where you stop at a family-run cheese factory. Cattle and sheep farming was introduced in the mountain areas of the Amalfi Coast in the 3rd century BC, and today the cheese from this area is considered a gastronomic specialty. Gloves on, you immerse your hands in the water to stretch the curd. After learning to make mozzarella, you taste their other delicacies such as smoked provola, ricotta, provolone, and goat milk cheese.
You head back to the coast to the village of Furore, tenaciously clinging to the steep cliffside that dramatically drops into the Mediterranean Sea. This is an extreme territory full of extreme beauty, which naturally means home to extreme wines. It is on this superlative terroir of terraced vineyards that exclusively local grape varieties create an award-winning range of nine labels. You walk through these ancient vineyards and visit the 17th century wine cellar. Then, you enjoy a light lunch made with products grown directly by the winery owners, paired with a guided tasting of DOC wines of the Amalfi Coast.
Your driver then takes you down to the marina where you meet your luxury boat and captain for your sunset cruise along the coast. This morning you explored the coast from within; now you discover it from the water. From here the Amalfi Coast towns are at their most photogenic, and hidden bays and caves that are impossible to reach on land can be accessed. Your captain drops anchor in some of the most secluded spots where you swim in the warm crystalline sea, and as you glide into the spectacular sunset that bathes the coast in a golden light, you raise a glass of prosecco to the generous beauty of this coast and the memories that it helped create.
Looking for more sensations?